Formula Explorer Pro - A better way to review, explore, debug and edit formulas
Explorer Pro combines and extends Excel's ancient Evaluate Formula and Trace Precedents tools.
Watch the Video Explorer 4.2 Overview: Best viewed in Full Screen at 1080P resolution
Explore Cell formulas, Conditional Format Formulas, Data Validation Formulas and Named Formulas
Forwards and Backwards debug using your arrow keys
View, filter and select the results of array expressions and ranges in both Normal and Debug modes
Toggle between Expressions, Precedents and Dependents view

Precedents include INDIRECT, OFFSET, INDEX and source cells
Click a reference or function to select its precedents both within and across worksheets
See which precedents are formulas.
Dependents view shows the formulas in the dependent cells
Drilldown from references to their formulas using right-click (Windows) or Shift-Click (Mac)

Modeless and resizable Form – select and modify cells whilst Explorer Pro is showing
Show the source cells that functions like VLOOKUP, SUMIFS, MAX etc. are pulling from
See the results of individual criteria's in SUMIFS, COUNTIFS etc.
Show the result of IF, CHOOSE, IFS, SWITCH functions
Show filtered results from the arguments of functions like SUMPRODUCT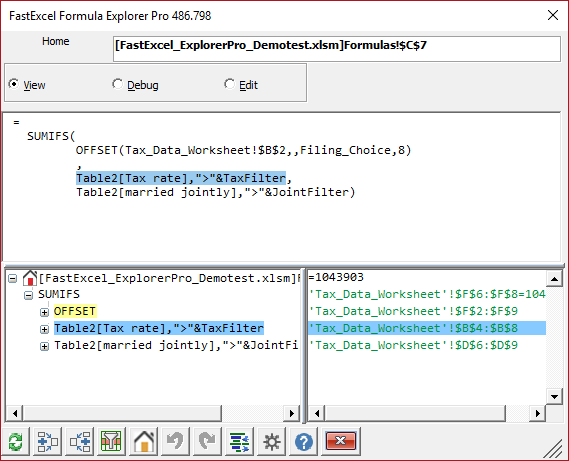 Try it out for yourself:
Get a 15-day full-featured trial license
You can convert the trial version of FastExcel V4 to a fully licensed version at any time by purchasing one of the FastExcel V4 licensing options.
Want to know more?
View the FastExcel V4 WebHelp